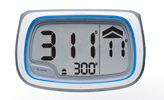 Manufacturer part #: Velocitek Shift
See shifts at a glance. Big numbers and bold arrows make it easy to see how much you're headed or lifted.
A user interface that works under pressure. Oversized buttons allow you to instantly store port and starboard reference angles on the fly.
Big Numbers. The Shift's 38mm (1.5") high digits can be easily read from over 30m (100 ft) away. The Shift's high contrast LCD will also show up crystal clear through your polarized sunnies.

9-Axis solid-state sensor. The Shift uses a combination of solid-state accelerometers, gyroscopes and magnetic sensors to completely track the orientation of your boat in 3 dimensions. The result is aerospace-grade heading indication that is smoother and more responsive than any other tactical compass on the market.
The ProStart's Timer. When you hear or see any type of start signal just hit the GUN button. If the timer isn't running, it will start. If the timer is running it will sync. Once the timer is sync'ed you can independently adjust minutes while the seconds keep counting down.
Backlight. The Shift has a red LED backlight that won't ruin your night vision. The battery's good for over 60 hours of sailing in the dark.
Solar powered. The top of the Shift is dedicated to an enormous 26mm x 124mm (1" x 5") solar panel. This keeps the Shift juiced-up and ready for action.


Waterproof. The Shift is designed to withstand continuous immersion at 3m (9 ft). Every single unit that comes off the assembly line is pressure-tested before it ships.


Replaceable battery. Even the best lithium batteries don't last forever. The Shift was designed to make it easy for you to replace the product's battery yourself.


Class Legal. The Shift doesn't use any GPS technology and it even comes with a static-cling Legalizer Label for use in the most conservative one design classes.