Coaching on your boat or ours at Vela Sailing Supply!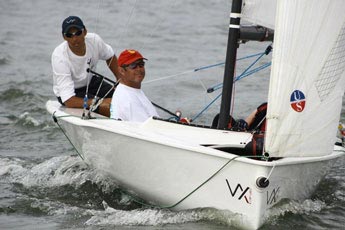 Racing and Cruising require a wide range of skills. With Vela Performance Sailing, we'll help you learn the skills you need to achieve your sailing goals.
RACING: Most racers truly do not get the maximum potential out of their crew and boat. With an on board instructor, we focus on crew organization, responsibilities, tactics, sail trim, rig tune and other crucial factors to get you around the race course faster. Each instructor is nationally renowned with a positive attitude to help you get your boat on the podium!
CRUISING: Having a hard time in heavy weather? Struggling to get that anchor to set just right or is your rig not tuned properly? With on board instruction from Vela Sailing, we will help you reach the goals of confident boat handling. Our instructors have spent literally thousands of miles onboard sailboats and can optimize your boat and abilities for any passage you might have in mind.
To get started, either complete the information card below or call us at 877-240-VELA (8352) so we can learn about you, your sailing, your boat, your objectives. Next, we custom design a training program. Finally, we join you and your crew aboard your boat or come sailing on ours. You'll learn more, you'll learn fast, and you'll have fun. There is no better way to raise your sailing skills to the next level.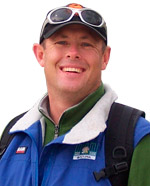 Steve LeMay
Steve has sailed and coached on several One Design, PHRF, IMS and IRC boats. More specifically, Steve helped write the original Melges 32 tuning guide with Harry Melges and Eric Hood formerly of North Sails Zenda. He is a lead instructor for North U as well as coaching teams worldwide.
Here are some of his recent victories:
• 3 time J/80 North American champion (2000, 2005, 2008).
• Numerous J/105 victories on the boats Hoss, Wet Leopard and Trickster.
• 2006 and 2007 Farr 30 Great Lakes Champion.
• Top 4 finishes in Key West race week for 5 years straight on various boats.
• 2009 Viper 640 Southwest Circuit champion team.
• 2002, 2005 and 2007 J/80 Southern Circuit champion team.
• Extensive experience on the j/80, Viper 640 and J/105.
• Numerous national, state and local championship wins in the J/22, J/24 Farr 40, NYYC 42, IMS, PHRF, Beneteau 33.7 and 36.7 classes.
Rod Favela
Rod was born and raised in Venezuela where he started racing on dinghies since age 12. His experience racing on Sunfish, Laser, J/24, Soling, Flying Scot, Lightning, Hobie 33, Henderson 30, Farr 39 ML, Melges 32's and Viper 640's is extensive. The combination of dinghy and sport boat together with some catamaran sailing, has given an additional sense on how important of a role boatspeed plays when it comes to teach any sailing/trimming principle. Rod has also coached racing sailors of all ages , from Optimist to J/122 and also lead the marine knowledge course for rescue groups in his home country. He has also cruised and race offshore in the Caribbean on J/24 and IOR sailboats during the Pre-GPS era which allowed him to develop a new approach for teaching and living on board. In 2004, Rod worked for North Sails loft in Venezuela, in the town of Puerto La Cruz; needless to say he is fluent in English and Spanish and has enough knowledge of Italian to make it to the first mark on a full Italian team!
Some of the highlights of Rod's sailing career are:
• South Caribbean Offshore Regatta (4th. Place). J/24 Skipper (at age16).
• Sout Caribbean Offshore Regatta. (2nd palce on crusiing division). Tactician/trimmer.
• First place at NOOD's on Hobie 33 (2 times) and Henderson 30. Trimmer and tactician.
• 2 times Hobie 33 North American Champion. Trimmer and tactician.
• Melges 32 Nationals (6th.place). Trimmer.
• Sunfish Southwestern Regional Championship (1st. palce) World's Qualifier.
• Championship of Champions (Flying Scot) 7th place. Trimmer/tactician. Skipper: PJ Patin.
• Several victories on regional and national events, such as Texoma Lake Fest, J/24 Texas Circuit, Viper 640 circuit, Harvest Moon Regatta, and more racing events in North Texas.
Rod currently lives in Dallas, TX. Where he is active with local dinghy fleets and PHRF. He is the owner and director of Vela Sailing Supply, Inc. which is a performance oriented sailboat part store. His spare time is also spent on the water between dinghies and windsurfing with his family.