Posted by Rod Favela on Nov 17th 2015
Technology has advanced so rapidly that the standard materials used to tolerate high loads are slowly becoming something of the past. Words such as Dyneema, Spectra, High Modules have been part of the rigger and sailor's argot for over ten years and now more than ever, synthetic fibers are the most common element not only for those seasoned sailors that want to get faster around the course, but also for the cruisers that are starting to enjoy the benefits of lighter and stronger rigging that does not battles the corrosion or the potential swage failure.

This approach did not start on the small components of a sailboat's deck layout or running rigging, in fact the experimentation on high performance sailboats such as the Melges 32 and similar sleds with PBO fibers open the doors to a whole new world and now we are lucky to been able to have light system without needing to use a steel shackle, but rather a simple 2.5mm Dyneema loop or strop.

Harken has been one of the most important game changers in the sailboat hardware industry and here we want to show their latest product of one of the widest range of use:
T2 Block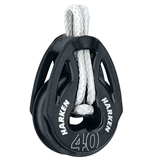 Don't be fooled by the cute look and light weight of these blocks, made from 18mm sheaves all the way up to 57mm, the Harken T2 Carbo Blocks are strong and durable and do not have a single piece of metal in them. The Dyneema pre-spliced loops replace the standard key or pin shackles, no strength compromised, no weight added, a better price. Makes every sailor happy.

Get ready for the next generation in lightweight hardware on your every day sailing applications.

Stay tuned for the next posting.

Go sailing...sail hard!